I was riding home last night and saw the crews grinding down the arrows at Packard's Corner. Here's the proof: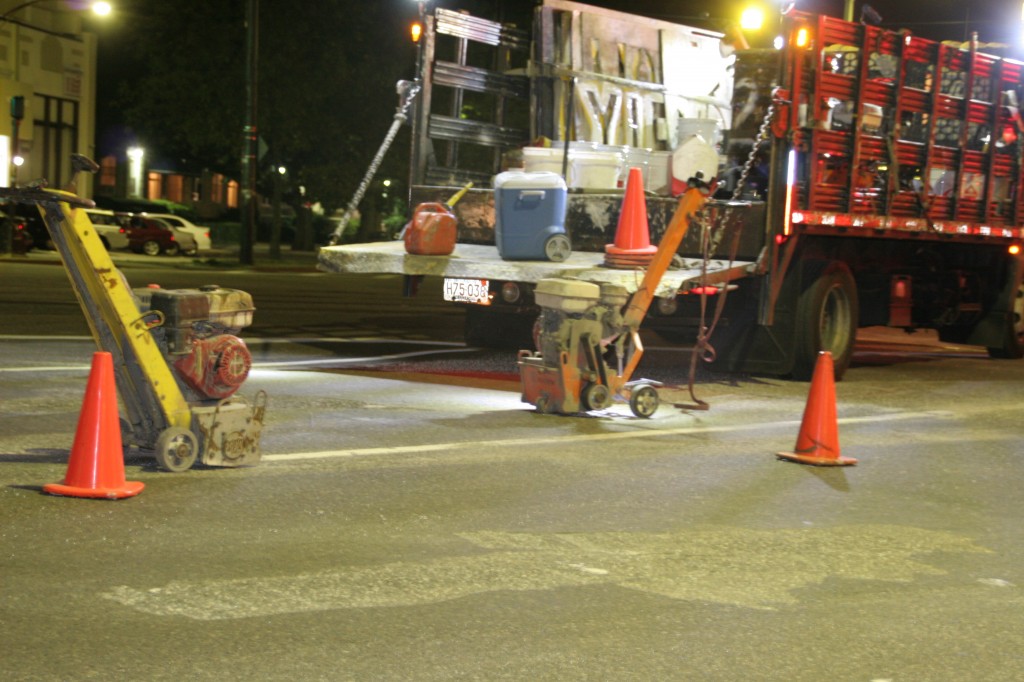 I talked with one of the supervisors. We can expect the paint to go down this week if the rain holds off. They are slightly shifting the travel lanes to the left and squeezing them a bit to make room for a 5-ft bike lane, which will go between the right lane and the parked cars. The car parking will remain, as will all the left turns. This should look similar to what was done on Comm Ave from Kenmore Sq to BU Bridge. I do not know what will happen once the lanes hit Packard's Corner, which may be tricky since going outbound there's a big left turn onto Comm Ave and the carriage lane, and a straight lane onto Brighton Ave. Also there's the B-Line train tracks and a semblance of the old A-Line train tracks which could (and do) make for hazardous road conditions…. I hope there will be some notification for cars, t-drivers, and bikers about the dangers of merging.
This is a big connection that will help put together our bike-lane network. Lanes on Comm Ave from the Public Garden all the way to Packard's Corner. There is a slight gap outbound on both Comm Ave and Brighton Ave if you're traveling to the lanes on Harvard Ave, but still — Way to go Boston! Keep up the good work!