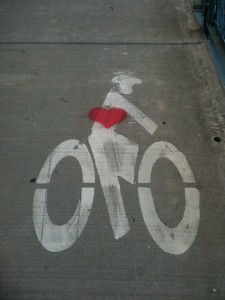 While lanes are being ground up on the other side of town, (oh, why Charlestown!?) Brighton is getting some stripes freshly laid (just in time for Christmas).  We got these new beauties about a week and a half ago — The lanes go from Union Square in Allston, and head outbound on Cambridge Street through Brighton Center, and continue all the way down Washington Street just up until Oak Sq.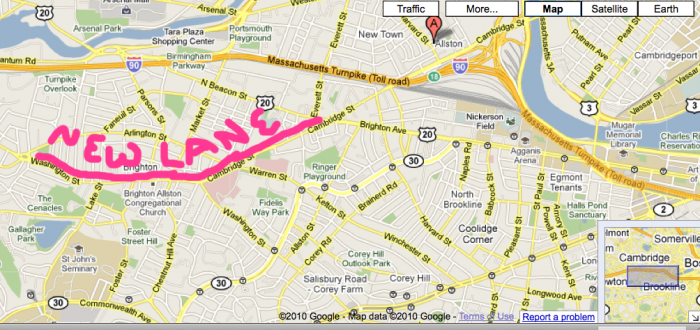 If you head out, you'll see a few varieties of bike-lane experience on this stretch. Along with the traditional solid line 5-ft lane with bike dude, we have several "sharrows" especially in the middle of turning lanes, and dashed lines where lanes start, stop, and are crossed by bus-stops and intersections, .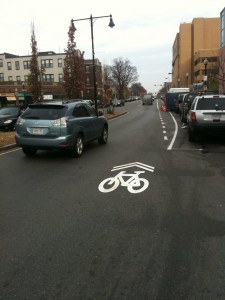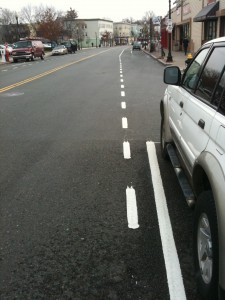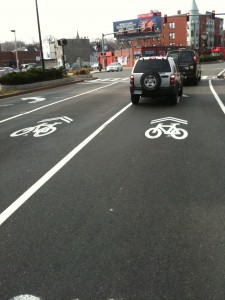 The lanes act, in most part, to keep car traffic in line, and away from the curb — opening up a space for bikers to ride on the right.  This is great on Cambridge St, where the wide street allows for plenty of space to play with: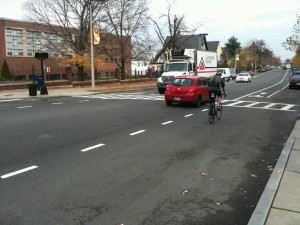 It's a heavily biked and trafficked series of roads, connecting Allston Village to Brighton, Chestnut Hill, Newton, and beyond.  The lanes pass St Elizabeth's hospital, the police station, and has the 57 bus, school buses from Jackson Mann School, ambulances, firetrucks, and cop cars regularly zooming past.
*  *  *
I captured some video of the friendly grunt workers, the BTD crew, working on behalf of the Boston Transportation Department and Boston Bikes, putting the finishing torches on the thermoplastic bike-dude.  This was great to see in person — if you haven't seen this before, this is how the lanes and designs are put onto the pavement; one crew draws the lines and lays down stencil, while another crew follows behind heat-blasting the plastic down.  Cool Stuff!
I told the flamethrower-ers how this was a great thing to see as a biker and advocate, and I described how putting down lanes changes drivers' habits overnight and really helps give acceptance of bikers on the roads.  One worker was talking about how the bike lane process, how it goes from plans, to designs, to pavement, but there are sometime hitches in the process, like a traffic island unaccounted for in the designs.  When they get to these places, he told me, they "fudge it" and make it work.  Hey, whatever works to get the lanes in — so far everything looks good to me.  And he also talked of traffic designers having to train the drivers to recognize the lines and follow the new lanes, something Bostonians aren't necessarily used to.
I'm reminded of theHumble Cyclists post on the new "cycletrack" on Western Ave in North Allston.  Check out the video below, of the new lanes, and the special surprise at the end of the film:
Well, anyway you look at it, new paint means new traffic habits in Allston.  Great!  We still have yet to connect all the lanes to make a complete network through our neighborhood, but we're well on our way with this new 1.6 mile addition.
And now I get to sit in my third floor office, overlooking Cambridge St, watching the traffic flow by — bikes, peds, cars, buses, semis, ambulanes, firetrucks, cop cars, skateboarders, scooters — a bit more orderly, and hopefully a bit safer.