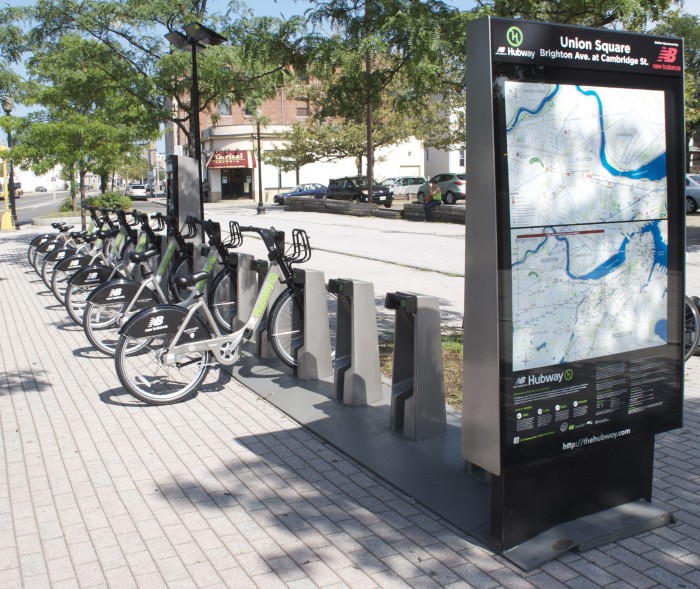 Have you noticed the goofy bikes locked up to futuristic stations all over Allston?  The ones with step through frames, huge bomb-proof tires, 3-speed internal hubs, and gaudy fenders?  Maybe you've see folks walking up to the station, removing a bike, and heading off down the street?
It's the New Balance Hubway bikeshare system!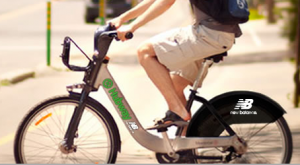 The City of Boston and Boston Bikes, along with a whole bunch of sponsors and partners (including New Balance, right here in Brighton) have succeeded in bringing us bike share! This is the same system that's currently rolling strong in DC, and modeled off the huge successes in Montreal, Paris, London, Melbourne, Hangzhou, and other cities around the globe.  Boston has made a huge step toward becoming that "world-class" biking city the Mayor keeps talking about.
The rundown is this: Users of the Hubway will be able to rent bicycles from stations around Boston (61 stations once all are put down, with an amazing 600 bikes for use) all the way from Allston to Downtown to Southie to Roxbury Crossing.  Here's the map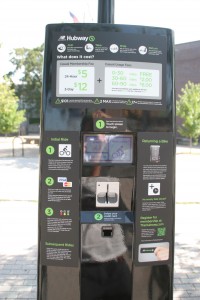 With a credit card, a rider can access a 24-hour or 3 day membership instantly at a kiosk, or can sign up online to be an annual member, and be given a code or key-fob to unlock a bike.  The rider will then have 30 minutes of free riding starting when the bike is released, and the bike can be returned to any station in the system throughout the city.  The cost then goes to $2 for the next half hour and continues to increase the longer the bike is in use, so the concept is to use the bike for short one-way trips around town, keeping the bikes in circulation and keeping the cost low for the user.
Check out the "how-it-works" page on the Hubway website.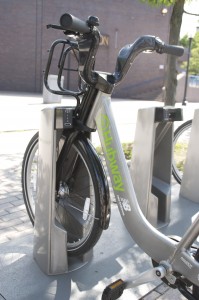 The whole idea is that this is a new public transit system in Boston, bikes for the common rider.  It's public transit that will catch on and grow and do wonders for increasing the amount of people biking on the roads.  Folks will think of the Hubway as a connector, leaving their car at home and coming into town by train or bus, grabbing a bike and scooting to wherever they need to quickly and comfortably.  Folks who don't ride will be encouraged to ride, and they will see how easy, safe, fast, convenient, and FUN biking really is.
And, of course, along with the bike share system we're going to get concerns about novice cyclists taking to the streets of Boston.  But that actually means there's a great opportunity to educate Hubway riders about rules/tips for riding in Boston traffic.  New riders are likely to be cautious and slower riders who obey traffic laws, so we may see a change in how cyclists are perceived in this city.  And there are even classes put on by Hubway to teach urban cycling, in collaboration with MassBike and Boston Bikes.  You can sign up for a class HERE.
This is certainly a game-changer when it comes to biking in Boston, and we are proud that New Balance was fortunate enough to become the title sponsor, and that Harvard was wise enough to sponsor several stations in their campus, so that Allston could be well served, not just in the busy thoroughfares but also in the neighborhoods in Allston, North Allston, Brighton and beyond.  Check out the station map to see how close your home or work is to a Hubway station.
And have you tried it out yet?  Let us know what it's like in the comment section.  This is something new for Boston, a grand experiment, so we're interested in riders' stories!